We regularly receive questions and so we're hoping that this page make a little way to answering them before you contact us with your requirements
What days a week do you deliver?
We deliver seven days a week 362 days of the year. We do not deliver on Christmas Day, New Year's Day or Easter Sunday. 
Where are you situated?
We have three transport hubs located in Cardiff, Avonmouth and Launceston. We are strategically placed to ensure that we can react as fast as possible to our customers demands
How do I get my products to you?
We can arrange for your products to be collected from your business or workshops anywhere within the United Kingdom and to be stored within our warehouse prior to them being dispatched to their final destination.
How long can I keep my products with you?
There is no time limit for how long you can keep your products with us. We offer very competitive rates and we are happy to keep you updated with the stock levels we hold on your behalf. 
What is the area you deliver to?
We deliver over an ever-expanding region that covers Cardiff, Swansea, Aberystwyth, Ludlow, Bristol, Swindon, Exeter and Plymouth. We cover some of the most rural areas within Wales and the South West. With over 100 collective years experience, our delivery success rate is 99.8%. Every day, we go above and beyond as standard, to ensure your expectations are not only met, but exceeded.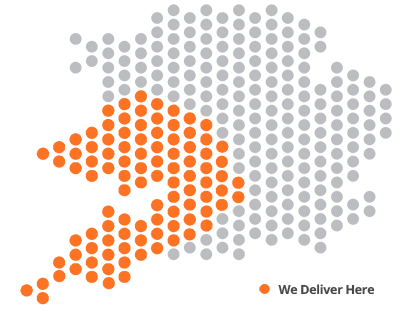 What kind of things do you deliver?
We deliver a range of household materials from sofas to white goods, from garden furniture to housing materials. By operating seven days a week and ensuring that we hit every area every day we can ensure that your products will be safely with your customer as soon as possible.
Something we've missed? Give us a call or send us an email today!